Ergonomics worth investing in
Along with Orkla Food Sverige's production facilities, the Vansbro stone oven baked pizza bakery recently made the switch to automatic flour dosing to strewers. The system, tailored by Dosetec, increased automation and made production more efficient, but above all, with the changes customer achieved the improved ergonomics and occupational safety they were looking for.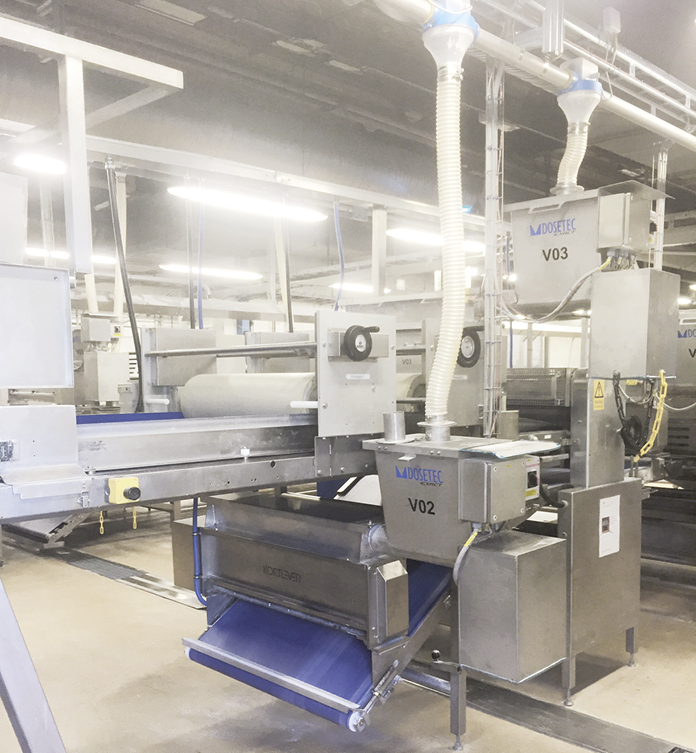 Investment in occupational safety and hygiene
The Orkla Foods Sverige group has ten production facilities in Sweden, one of which is known as Sweden's largest stone oven baked pizza bakery. At the Vansbro production facility approximately 30 million frozen pizzas are manufactured each year, including pizzas under the famous Grandiosa brand. Orkla Foods Sverige is also known as a keen promoter of social responsibility and sustainable business. As part of this, the group wanted to enhance the occupational ergonomics and safety of its workplaces. It set its sights on a dust-free and hygienic working environment, as well as zero accidents through effective risk management. The group is systematically focused on the prevention of accidents and injuries. It was this objective that was a key factor in the Swedish company placing an order for Dosetec's automated flour dosing system for the strewers of its two pizza lines at the Vansbro production facility.
The commercial impact of ergonomics
Dosetec's tailored system automatically ensures that pizza line strewers sprinkle flour onto rolled dough continuously. This ensures that dough does not stick to the belt or the rolling pin. "The automation allowed us to remove a manual process that involved staff rushing between lines and strewers, sprinkling flour in confined spaces and unergonomic working positions," explains Product and Process Technology Manager at the Vansbro bakery, Malin Lagerberg. Dosetec's solution uses a pipe scraper conveyor in the transportation of flour to facilitate the distribution of small amounts of flour across several locations, easily and flexibly. In terms of improved ergonomics, Orkla states in its sustainable development report that systematic efforts to improve the working environment and occupational health and safety also have a significant commercial impact, resulting in more stable operations and lower costs stemming from illness-related absences.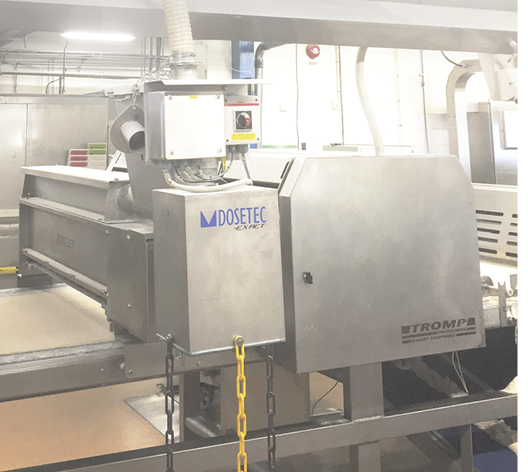 Customisation experience and skills assist in space utilization challenges
A few years ago, Dosetec delivered a similar system to Orkla's Stranda pizza factory in Norway. Orkla's Swedish employees had heard through the grapevine about the success of the project, the results the system had brought, and the reliable operations their Norwegian colleagues had been benefiting from. This meant that the choice of supplier was easy when Orkla Foods Sverige made the decision to purchase a flour dosing automation system for the Vansbro production facility. John Egil Filtvedt of Megatec is Dosetec's local partner for deliveries in Norway and Sweden, ensures a smooth collaboration between Dosetec and their customers. As he explains, finding a space utilization solution to eliminate cramped working conditions was challenging in this project. "Dosetec's experience-based customisation skills helped us find the optimal solution in terms of use of space. The system started up first try, and the customer was happy," said Filtvedt proudly.