In the beginning of the 1900s, Iisakki Koskinen bought a mechanical scale on a trip to Germany, explored the operating principle and designed his own version. Soon the scales were made steadily with the help of his son Vihtori.
It took decades until a new scale invention occurred in the Koskinen family. Vihtori's son Esko asked his father to design "some type of scale," as a pastime. Vihtori then made one.
The invention was an ingenious way for farmhouses to meet their weighing needs in the 1950s. There was no need for separate loose weights anymore, as the weights could now be transferred conveniently on a rail. Eventually, Vihtori's sliding poise scale was used in virtually all farmhouses in Finland.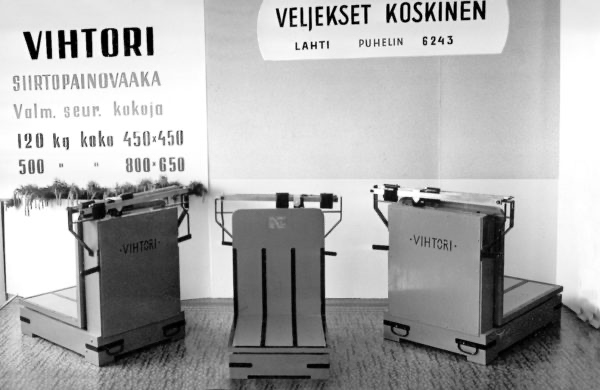 Initiation of dosing and weighing systems
When Esko Koskinen moved to the driver's seat of the scale factory, a fabrication of hopper scales was launched for the weighing needs of concrete stations. This was an impulse business idea that has matured over the years and is relevant still today: the design and manufacturing of dosing and weighing systems for various industries.
From mechanical weighing to electrical scale technology
In the 1970s, mechanical weighing made room for electrical scales. This was an excellent opportunity for the new generation to take over the company.
Jari Koskinen was only 26 when he became the head of the company in 1981. Today, over 33 years later, Jari Koskinen as Chairman of the Board remembers it like it was yesterday.
– The challenge was big indeed, but sensible. With a young man's boldness and fearlessness, we pushed forward hard, the Master of Science smiles.
Solutions for industries, competence for control systems
Under Jari's responsibility, the business idea of manufacturing dosing and weighing systems expanded to meet the needs of the food, chemicals, building materials, and steel industries.
– The fast technological development in control systems was challenging, as software and computers changed all the time. Luckily, we got to share the responsibility and the pressure for change in 1989, when Pertti Hännikäinenbecame co-partner and Vice President of the company, Jari commends.
– Now the situation is far better, as we have focused on using the Siemens logics for over ten years. Our know-how in developing control systems is greater and we have created them to be more user friendly.
Key to success: customer satisfaction
Pertti Hännikäinen retired this spring. After 25 years in Dosetec, he highlights one reason above all when it comes to the success of the company.
– Customer satisfaction. We have taken good care of our customers and have managed to ensure the appreciation and recognition of our company. Today, we are an international export company that is trusted by even large companies year after year.
Export comprises over half the turnover
Jari Koskinen agrees with Hännikäinen.
– Today, well above half of our turnover comes from export to the Nordic and Baltic countries as well as Russia.
– The future looks bright. We will continue to take care of customer satisfaction as well as taking a hundred-percent responsibility for the success of our customers' dosing and weighing, Koskinen summarizes.