Transfer to a new, automated dosing system raises questions and doubt. What if there are unforeseen problems? This is not a leap of faith into the unknown future because Dosetec will provide support throughout the delivery process.
For Dosetec, it is not only a matter of delivering a new system but of providing continuing presence and customer support afterwards. This ensures the longevity and competitiveness of the customer's production lines far into the future.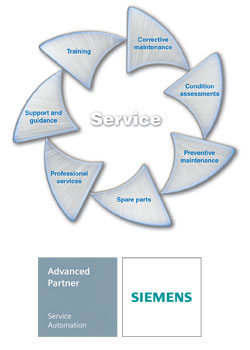 Siemens Service Partner
You can trust in Dosetec's continuous support because Siemens has chosen Dosetec as a Service Partner. As a certifi ed partner, Dosetec looks after the systematic preventive and on-going maintenance of the customer's dosing and weighing equipment, which uses Siemens controls.
Regular service ensures reliable and trouble-free operation of equipment and prevents production losses. Systematic service can reduce unplanned production interruptions and maintain the desired product quality and production capacity.
Extend the lifespan of your production line
Many services offered by Dosetec enable the customer to extend the lifespan of the production processes and increase the productivity. During the installion period of the new system, Dosetec provides extensive operator training and maps out any possible future training and support needs.
Dosetec does not leave you on your own. Once production is properly set up and running, we offer technical support and maintenance services either at the site or instantly through an Internet connection without any need to interrupt production. Any possible modifi cations, large or small, will be made quickly.
Periodic calibrations and inspections of scales
The system remains productive in the future when proper maintenance is provided. For example, periodic inspection and calibration of scales prevents problems and improves the repeatability and dosing accuracy in the process. Our inspections also generate a calibration report which can be utilised elsewhere in the company's quality systems. In addition, we offer periodic inspections of scales at three year intervals as specifi ed by the regulations set by legislation.
Replacement of worn parts
Scales are sensitive instruments and wear on their parts both impairs proper functioning and may cause weighing errors. In most instances, the worn parts in scales consist of fl exible parts, gaskets and fi lters. Like the load cells, the correct functioning of the various mechanical and electromechanical components impacts the customer's production process and in the long run the profi tability of the whole company. Our spare part service is built in view of this fundamental fact.